Sukhumvit – A shopping & dining paradise for all!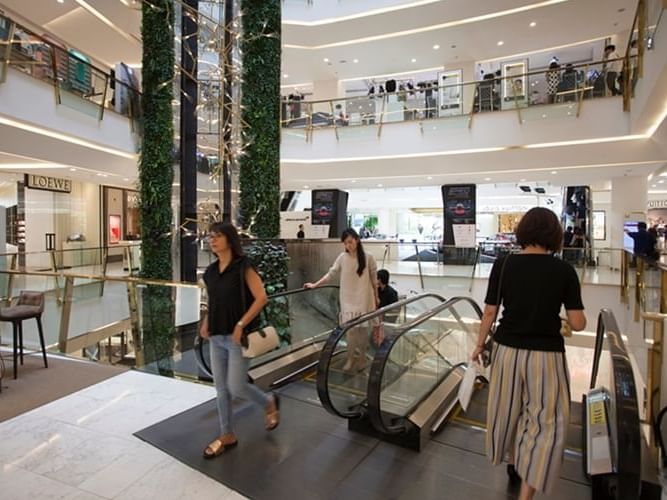 If you ask a local where the best places are in Bangkok for a shopping fix followed by some delicious dining, chances are they will point you to Sukhumvit, and with very good reason – it's simply the best district in the capital! But where to begin? Check out some of our favourite Sukhumvit shopping and dining destinations below and get ready for a good time! 
Shopping 
EmQuartier 
EmQuartier Bangkok is in one of the biggest retail hubs of the capital and attracts lots of people looking for a shopping spree. You will find long list of designer brands, as well as dozens of restaurants, offices, event halls and a cool atrium garden with its own waterfall. 
 
Emporium 
With direct access from the BTS at Phrom Pong, Emporium Shopping Mall is across the road from EmQuartier and is filled with glamorous boutiques selling both international and Thai designer brands. 
 
Terminal 21 
One of the best malls not just in Bangkok, but the world, Terminal 21 simply has something for everyone. If you love shopping then you are in paradise, with over 600 eclectic shops to spend your money in. 
Sukhumvit Market 
A lot of Bangkok shopping takes place on the street, and it certainly adds to the shopping experience.  Street stalls selling a huge assortment of goods all add to the bustling liveliness of the place. 
 
Sukhumvit Arcade 
Sukhumvit Arcade is another place with a little bit of everything, and you'll probably leave here with something you never even thought of buying when you decided to head out shopping! The absolute best time to come here is in the evening when the arcade has a real exciting atmosphere that just can't be missed.  
Dining 
Bo Lan 
Known for many years as one of the best Thai restaurants in Bangkok, Bo Lan is not your average restaurant. This beautiful restaurant, complete with a small garden, serves a menu of fabulous food inspired by traditional Thai cooking. 
Enoteca 
Enoteca Italiana is one of the very best Italian restaurants in the city. It's tucked away at the end of a tiny street and is full every day of the week, so book ahead. 
 
Freebird 
Freebird concentrates on inventive cuisine served in a casual, lively atmosphere. There's graffiti on the walls and smooth music on the stereo. 
 
Soul Food 
Soul Food gives diners popular regional dishes in a cosy restaurant, all made with fresh local produce. If you are looking for a great evening with delicious food then you have found the right place. 
 
Supanniga 
Supanniga serves up a delectable range of traditional Thai dishes from both the east coast and Khon Kaen in the northeast. With comfortable and stylish décor plus an outside terrace, it's well worth a look. 
The Local 
The Local  is a well-known traditional fine-dining Thai restaurant. The restaurant serves delicious home-cooked Thai food in a historic wooden house and is inspired by delicious old-style Thai cooking and cuisine from the past. 
For more information or reservations please call Maitria Hotel Sukhumvit 18 Bangkok –        
A Chatrium Collection at +66 2 302 5777 Email: info.maitria@chatrium.com or visit www.maitriahotels.com